---
Posts: 1354
Joined: June 24th, 2016, 9:21 am
Location: Monrovia, Ca
Has liked: 9 times
Been liked: 78 times
the 19th, right after Spring Break
Jordan Nathan's #1 Fan Copyright pending due to YBAs shenanigans
---
Posts: 1354
Joined: June 24th, 2016, 9:21 am
Location: Monrovia, Ca
Has liked: 9 times
Been liked: 78 times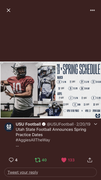 Jordan Nathan's #1 Fan Copyright pending due to YBAs shenanigans
---
---
Posts: 1354
Joined: June 24th, 2016, 9:21 am
Location: Monrovia, Ca
Has liked: 9 times
Been liked: 78 times
O~N~E M~O~R~E D~A~Y!!!
~~~~ SPRING BALL IS HERE!!!!~~~~

no, I'm not excited at all.....
These users liked this post from taniataylor. Total Likes: 6
Jordan Nathan's #1 Fan Copyright pending due to YBAs shenanigans
---
---
Posts: 1354
Joined: June 24th, 2016, 9:21 am
Location: Monrovia, Ca
Has liked: 9 times
Been liked: 78 times
FYI:
JaMarcus Ingram will not be participating in Spring Ball & Shaq Bond will be limited during Spring Ball.
Stay tuned....
Jordan Nathan's #1 Fan Copyright pending due to YBAs shenanigans
---
Posts: 358
Joined: September 12th, 2018, 2:01 pm
Has liked: 0
Been liked: 15 times
taniataylor

wrote:

↑

March 18th, 2019, 8:09 pm

FYI:

JaMarcus Ingram will not be participating in Spring Ball & Shaq Bond will be limited during Spring Ball.

Stay tuned....

[What were there injuries i cant remember?]
---
Bond was an ACL.


Sent from my iPhone using Tapatalk
"The winning team has a dedication. It will have a core of veteran players who set the standards. They will not accept defeat."
--Merlin Olsen
---
Posts: 1354
Joined: June 24th, 2016, 9:21 am
Location: Monrovia, Ca
Has liked: 9 times
Been liked: 78 times
Ingram - turf toe/surgery
Jordan Nathan's #1 Fan Copyright pending due to YBAs shenanigans
---
---