Posts: 574
Joined: November 5th, 2010, 9:58 am
Has liked: 0
Been liked: 15 times
So why is this H2GO Force bottle given to recruits on football visits say Salt Lake City on it? The kid received it in Logan.
To clarify, under the U State it says Utah State University, Salt Lake CIty.
(Click on the picture to enlarge)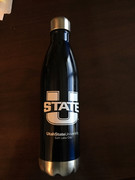 ---
Posts: 592
Joined: November 3rd, 2010, 7:40 am
Location: Davis County
Has liked: 3 times
Been liked: 3 times
Wow, that is pretty stupid if so.
---
Posts: 2473
Joined: October 1st, 2013, 9:11 am
Has liked: 63 times
Been liked: 313 times
Perhaps a mix up of bottles that needed to go to the SLC center?
Jordan Nathan's ACTUAL #1 Fan
---
Posts: 5257
Joined: March 11th, 2011, 9:12 pm
Location: Vienna, VA
Has liked: 42 times
Been liked: 156 times
Swag on the corporate recruiting level can often be whatever free crap is lying around in excess (or cheaply avail at company store) do we have a sac campus? Did they have a ton of extra bottles lying around?

I don't know when giving things to recruits crosses a line but it's probably somewhere between a surplus water from a satellite campus and trips to strip clubs/ Harry Potter world/ Jettas.
"Gary Come Home"
-Mr. Spongebob Squarepants
---
Posts: 7969
Joined: June 16th, 2011, 6:49 pm
Location: Temecula, California
Has liked: 275 times
Been liked: 138 times
Pretty smart, make the kids think they are going to school in SLC instead of Logan

/s
Just another day in the (Aggie) Brotherhood
---