Posts: 561
Joined: November 3rd, 2010, 5:12 pm
Location: Nibley, UT
Has thanked: 69 times
Been thanked: 7 times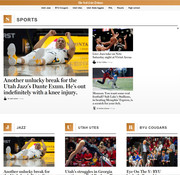 Nothin. Nada. You can stop asking me to pay for a subscription now. I'll just continue to Incognito Mode my way around, you worthless rag. Sheesh.
Yes, there is a story there, but you gotta dive into USU's main to see it.
The amount of energy necessary to refute bull (I can't express myself without swearing) is an order of magnitude greater than to produce it.
---
Posts: 915
Joined: November 27th, 2010, 7:43 pm
Has thanked: 1 time
Been thanked: 49 times
I quit so the slfib subscription years ago!
These users thanked the author blueaggie for the post:
---
Posts: 478
Joined: November 2nd, 2018, 7:52 am
Has thanked: 270 times
Been thanked: 210 times
I'm not sure where you want it to be, but It's on the very front page, not the sports section, but a link to the story right on the front page of sltrib.com.
Go Aggies!
---
Posts: 957
Joined: November 13th, 2010, 5:43 pm
Location: Fruit Heights
Has thanked: 5 times
Been thanked: 9 times
Literally the first thing you see at sltrib.com
Sent from my iPhone using Tapatalk
---
---
Posts: 4078
Joined: November 3rd, 2010, 10:09 am
Location: Salt Lake City, Utah
Has thanked: 16 times
Been thanked: 183 times
We need to get over the small man persecution complex. Nobody is out to get us or ignore us for spite.

Sent from my SM-N960U using Tapatalk


Formerly TulsAGGIE
---
---
---