Posts: 559
Joined: November 3rd, 2010, 5:12 pm
Location: Nibley, UT
Has liked: 48 times
Been liked: 7 times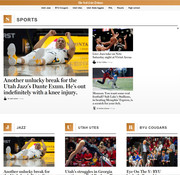 Nothin. Nada. You can stop asking me to pay for a subscription now. I'll just continue to Incognito Mode my way around, you worthless rag. Sheesh.
Yes, there is a story there, but you gotta dive into USU's main to see it.
The amount of energy necessary to refute bull s*** is an order of magnitude greater than to produce it.
---
I quit so the slfib subscription years ago!
---
---
Posts: 941
Joined: November 13th, 2010, 5:43 pm
Location: Fruit Heights
Has liked: 3 times
Been liked: 8 times
Literally the first thing you see at sltrib.com
Sent from my iPhone using Tapatalk
---
---
Posts: 3871
Joined: November 3rd, 2010, 10:09 am
Location: Salt Lake City, Utah
Has liked: 0
Been liked: 84 times
We need to get over the small man persecution complex. Nobody is out to get us or ignore us for spite.

Sent from my SM-N960U using Tapatalk


Formerly TulsAGGIE
---
---
---