Posts: 249
Joined: March 31st, 2015, 10:53 am
Has thanked: 15 times
Been thanked: 46 times
I'm sure it was one of you fine people who updated it to reflect the truth. Good job!
I wanted to make sure everyone had a chance to see it.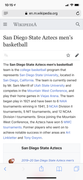 These users thanked the author Murkymerk for the post (total 7):
---
---
Posts: 3200
Joined: June 27th, 2013, 9:02 pm
Location: Wenatchee, WA
Has thanked: 16 times
Been thanked: 60 times
Well payed, my anonymous Aggie brother/sister!


Sent from my iPhone using Tapatalk
These users thanked the author WAaggieFan for the post:
---
---
Aggie Insider, Pick'em Champ - '18 Kickoff, '19 Weekly
Posts: 9071
Joined: November 3rd, 2010, 8:17 pm
Location: Smithfield, Utah
Has thanked: 4045 times
Been thanked: 2245 times
Contact:
Well done my Aggie brother!!
---
---