Site Admin
Posts: 11768
Joined: June 14th, 2010, 1:00 am
Location: Provo, Utah
Has liked: 115 times
Been liked: 186 times
Contact: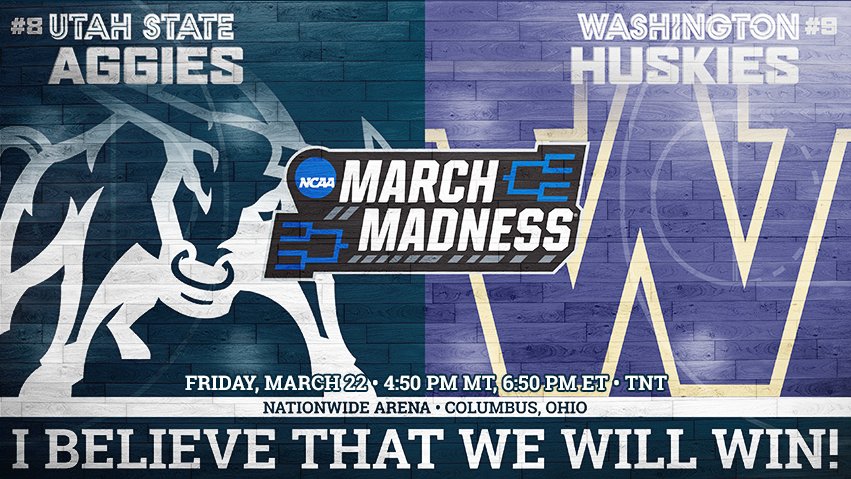 Venue
: Nationwide Arena, Columbus Ohio (
Map
)
Things to do:
Guide by dhilk3785
Tickets
: USU Ticket Office is Sold Out.
Ticketmaster
|
StubHub
USU Section is 104-105.
Bracket Challenge:
Thread
First Round
Opponent:
Washington Huskies
Message Board
Game Time:
Friday, March 22. 4:50 Mountain, 6:50 Eastern
TV:
TNT
All-Aggie Tournament Pregame Party
Your USU Alumni Association wants to get you prepared to cheer our team to victory. We're hosting an all-Aggie pregame party at the official host restaurant for Utah State, The Three-Legged Mare, just outside the Nationwide Arena. The Aggie Pep Band, Spirit Squad, and, of course, Big Blue will be there to get the crowd pumped up. So come, bring your friends and family and get ready to fill the Nationwide Arena with Aggie Blue & Fighting White!
There will be finger foods and soft drinks available at each event. The best part, THE EVENT IS FREE!
Event Info:
Location: The Three-Legged Mare
Time: 4:30-6:00pm (ET), tipoff 6:50pm (ET)
Cost: free to all Aggies
Food: Aggie ice cream, Finger foods, & soft drinks
Register for the Party
---
2018 Kick-off Pick'em Champion
Posts: 6333
Joined: November 3rd, 2010, 8:17 pm
Location: Smithfield, Utah
Has liked: 778 times
Been liked: 411 times
Contact:
This is really cool! Thanks!
---
Alumni Association has done a great job this year. Awesome job at MWC tournament! Thanks and go Aggies!
---